Acumatica 2022 R1 New Feature: Improvements to Project Quoting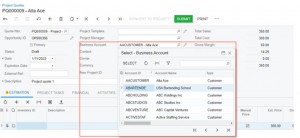 In the new release of Acumatica 2022 R1, the system has enhanced the project quoting functionality. The steps to create a project quote have been minimized and users now have the availability to create quotes for multiple related customers. The Projects Quotes (PM304500) screen has been enhanced for a better experience.
Multiple Customers in One Opportunity
On the updated Projects Quotes form, a user can change the business account, location, or contact that is still in the draft status. A user can create more than one quote for the same customer within this same screen. The user can link the project quotes for the same opportunity. See the screenshots above and below for how these functions work.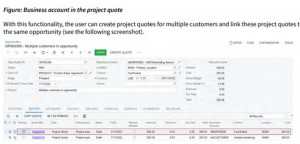 User Interface Changes
The interface across Acumatica has had several changes with the new release. On the Opportunities Form (CR304000), the following changes have taken place:
The

Multiple Customers

check box is now gone.
If selected in the Enable/Disable Features (CS100000) form,

Cost, Gross Margin, and Gross Margin %

are available.
The

Multiple Customers

tab has been removed.
Several items including business account, contact location, cost, and others have been added to the

Quotes tab

.

On the Projects Quotes form, users will now see the following interface changes:
The Billing Tab is now titled Financial.
There is now an Addresses Tab.
The Contact Information is now located under Addresses.
And many more!
If you think these changes will benefit you, please contact Polaris Business Solution; info@polaris-business.com.