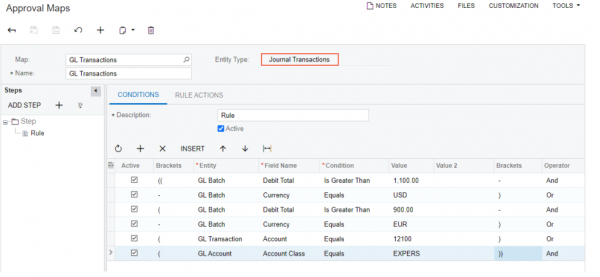 Many companies require the approval of GL transactions before they are posted to the ledger. In the new release of 2022 R2 of Acumatica, it is now possible to only release and post transactions to the GL after the appropriate person has approved them. In the system, users can assign an approver based on an approval map. This map is defined and the transaction is approved once the approval follows the map. The conditions of approval can be the amount, date, or other items the user would like to set up the map. There can be multi-level or sequential approval maps.
Only transactions directly from the general ledger are valid for approval. Administrators have access to configure rules as to who should be approving these transactions and when. These rules can be for single transactions or batches. This new feature of 2022 R2, Approval Workflow, is available once enabled on the Enable/Disable Features form.
On the Approval Maps Form the new Journal Transactions option has been added to the entity type in the header selection. With the option selected, an approval map can be created for journal transactions.
If this new feature is something your company is interested in, please reach out to Polaris Business Solutions; info@polaris-business.com.