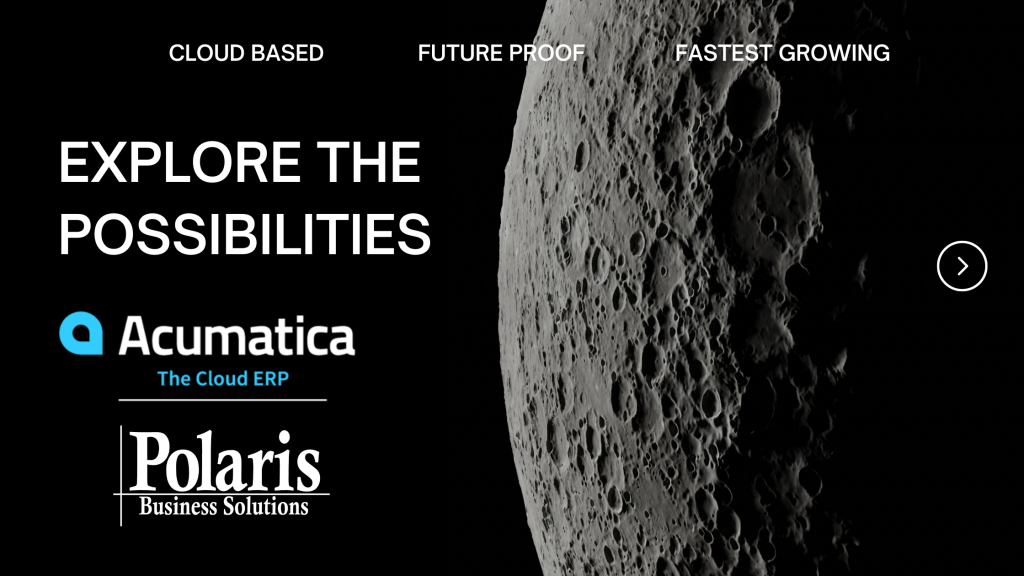 Acumatica ERP for the Space Industry
Welcome to the future of Enterprise Resource Planning (ERP) solutions for the space industry. Acumatica ERP partnered with Polaris can bring the aerospace and space exploration sector to new heights with their all in one solution. Whether you're involved in satellite manufacturing, space exploration, or aerospace engineering, Acumatica ERP has you covered.
Why Choose Acumatica ERP for the Space Industry?
Industry Expertise
Acumatica ERP and Polaris Business Solutions have a deep understanding of the space industry's intricate demands. Our team is well-versed in the regulatory requirements, complex project management, and financial intricacies that space industry companies face.
Comprehensive ERP
Our ERP covers all aspects of your space industry business, including:
Project Management
Financial Management
Supply Chain Management
CRM
Manufacturing
And More!
Cloud-Based Flexibility
Acumatica ERP is a cloud-based solution, that provides you with the flexibility to access your data and manage your operations from anywhere, at any time. This is especially important for companies in the space industry, where collaboration with global partners and remote work is common.
Scalability
As your space industry business grows, Acumatica ERP scales with you. You can add new users, modules, and functionality as needed without major disruptions to your operations.
Security and Compliance
We understand the importance of security and compliance in the space industry. Acumatica ERP offers robust security measures and is designed to help you meet industry-specific regulatory requirements.
Get Started with Acumatica ERP for the Space Industry
Embrace the future of ERP solutions tailored for the space industry with Acumatica ERP. Contact Polaris experts today to discuss your specific needs and discover how this comprehensive software can revolutionize your operations. Together, we'll propel your business to new heights and beyond the stars.
Read more:
Acumatica: The All-in-One Solution
Contact Us:
info@polaris-business.com
315-565-7110