New Feature for Finance Improvements to Recognition of AP Documents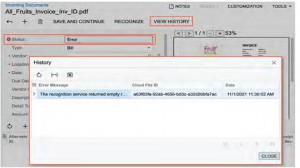 In the latest release of Acumatica 2022 R1, there have been several updates to the recognition of AP documents including resubmitting, searching for a vendor, and mass processing.
Ability to Resubmit Documents for Recognition: In the previous versions of Acumatica, the recognition process was often interrupted, or it failed. With the new release of Acumatica 2022 R1, if the recognition has failed, the system will still assign an error but the recognize button will not disappear. The system will automatically resubmit the document without the user needing to create a new record or manually re-enter any data. In addition, users are now able to view the history of uploads. See this screenshot above:
Search for a Vendor after Recognition: During the recognition process, the system uses information from the submitted document to search. However, sometimes this function does not work. For example, if there are typos, vendor misplacement, or the vendor is saved incorrectly. To fix their errors and make this process smoother, the release of Acumatica 2022 R1 has added a search for vendor functions. This function is on the form toolbar of the Incoming Documents for (AP301100). See a screenshot below: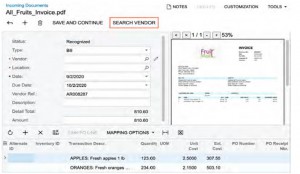 Mass-Processing Form instead of List of Records: The new Incoming Documents (AP301110) form has been introduced with the new release this spring. This new form replaces the list of records. The form now includes more information about the documents coming into Acumatica than the list of records did. A user can drag files to the dedicated part of the form or upload files. A user can have multiple documents recognized at one time by using the checkbox on the left-hand side of the screen and selecting recognizing at the top of the screen.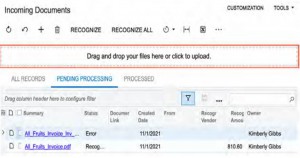 If this new feature is something your business would benefit from, contact Polaris Business Solutions; at info@polaris-business.com.