Giving Thanks: How an ERP is the Perfect Feast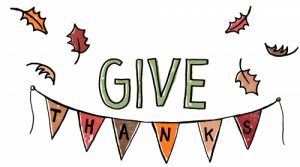 Thanksgiving is a time to express gratitude and appreciation for the blessings in our lives. When it comes to an Enterprise Resource Planning (ERP) system, there are several parallels that can be drawn between the essence of Thanksgiving and the benefits an ERP brings to a business:
Gratitude for Efficiency: Just as Thanksgiving celebrates abundance and efficiency in sharing a meal, an ERP system optimizes business operations, streamlines processes, and ensures efficient utilization of resources. This efficiency allows businesses to operate smoothly, much like a well-coordinated Thanksgiving feast.
Creating a Sense of Unity: Similar to how Thanksgiving brings people together around the table, an ERP system centralizes various aspects of a business, fostering collaboration and unity among different departments. This centralization promotes cohesion and facilitates a holistic view of the organization.
Data Accuracy and Appreciating Details: Thanksgiving dinners often emphasize attention to detail in cooking and presentation. Similarly, an ERP system emphasizes accurate data management, ensuring that details are well-maintained and consistent. This reliability in data enhances decision-making, just as attention to detail enhances the enjoyment of a well-prepared meal.
Reflection on 2023: Thanksgiving encourages reflection on what we're grateful for. Similarly, an ERP system allows businesses to reflect on their processes, performances, and areas needing improvement. This reflection helps in continuous enhancement and growth of the business.
Sharing and Collaboration: Thanksgiving embodies the spirit of sharing and collaboration. Likewise, an ERP system facilitates the sharing of information and resources across departments, fostering collaboration, and promoting a sense of unity within the organization.
Growth and Looking at 2024: Just as Thanksgiving often marks the end of the harvest season and the start of preparation for the next year, an ERP system optimizes current operations and prepares businesses for future growth by providing scalable solutions and adaptability.
The implementation of an ERP system and the spirit of Thanksgiving share common themes of unity, efficiency, collaboration, and gratitude. Both emphasize the importance of coming together, optimizing resources, reflecting on achievements, and preparing for growth.
During Thanksgiving, businesses can find parallels between the celebration and the benefits an ERP system brings, prompting gratitude for the improvements it offers to their operations.
We at Polaris Business Solutions hope you have a wonderful Thanksgiving holiday spent with family, friends, and great food!