Acumatica Summit 2022 Overview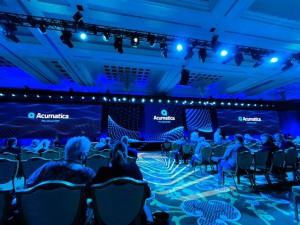 We are finally back from the annual Acumatica Summit. Over 1,800 people were gathered at the Wynn Las Vegas to see how the world's fastest growing cloud ERP system continues its advancement.
With Day 1 came a lot of emphasis on customers, growth, and agility. The keynote session with Acumatica CEO Jon Roskill focused on showing how Acumatica has an ecosystem mentality for its growth. This ecosystem includes developers, Independent Software Vendors (ISVs), Valued Acumatica Resellers (VARs), OEMs, and of course the customers and community. Also, it has three focuses: Integration, Extensibility, and Vertical Application.
There were also three announcements made:
– Acumatica is going after a new vertical with the implementation of a Property Management Module.
– Acumatica Document Cloud will make the integration with Adobe that much smoother.
– Autodesk integration with model viewer embedded into Acumatica.
Acumatica is focused on aligning with customer needs, the democratization of tech, innovation, and growth. Jon Roskill left us with a final statement, "Thank you for trusting Acumatica."
On day 2 we were formally introduced to Acumatica 2022 R1. Presenters started strong talking about community focus and emphasizing once more about how the customers are what makes this product what it is. They listen to what they want, and they work on building solutions that will work for the customers.
2022 R1 focuses on 3 main ideas: Working smarter on the go, unlocking global markets, and going broader and deeper with industry-leading capabilities. Some of the integrations in R1 include UiPath Connectors, where customers can easily automate repetitive tasks. Another integration is an Amazon Connector integration for those who sell on Amazon.
Acumatica focuses on enhancing the user experience and making sure they are always staying current in a fast-paced technology world. With updates to its mobile app, machine learning, and artificial intelligence, Acumatica is proving its dedication to its customers.
Summit 2023 was announced towards the end of the Day 2 keynote. We hope to see you next year at the Wynn in Las Vegas from January 29 to February 3rd! There is so much more to talk about, to hear more about Summit and new things coming to Acumatica, email info@polaris-business.com and we can give you a more in-depth breakdown.