Acumatica 2020 R2 New Feature Highlight: Automated AP Document Creation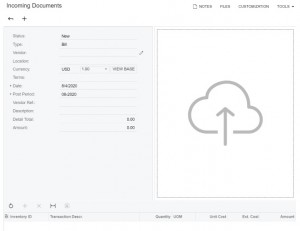 Acumatica has delivered a feature in 2020 R2 that will recognize invoices attached to incoming emails and map the data on the invoice to fields in Acumatica. Users can then create an AP bill, with the attached invoice, in a single click.
Acumatica will leverage Microsoft Azure's Form Recognizer which uses advanced machine learning to extract data from documents and pair them to the necessary fields in Acumatica.
With the Document Recognition Service feature enabled in Enable/Disable Features (C200000) a new screen called Incoming Documents (AP301100) will be visible. In this form, users can review a previously recognized document or manually submit a document to be recognized. If any of the fields were not recognized or were incorrect, the user can click the proper value on the document in the Preview area so that the system will map the value correctly. Once the user completes the validation the user will click Save and Continue and the recognized document will be become an AP bill with the original PDF added as a file attachment.
Aside from clicking and dragging a PDF document to be recognized into the Incoming Documents form, there are two additional methods to submit a document for recognition.   If using the Acumatica add-in for Outlook the user can click "Create AP Document" in the add-in when reviewing the email. This will kick of the recognition process and create the document for review in the Income Documents form. But, perhaps the most efficient way would be to create a dedicated email account for vendor invoices. That email account can be setup in the System Email Accounts (SM204002) form and can be set to submit documents automatically for recognition.
This is the first release with the AP Document recognition feature and given Acumatica's dedication to adding machine learning and artificial intelligence capabilities into the product we know this will get better with each subsequent release.