Acumatica vs Dynamics SL: Mobile App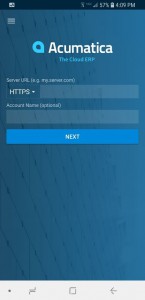 I can remember getting my first cellular phone. I had just gotten a job as a consultant for a Dynamics SL (Solomon at that time) reseller and I was told I needed one so I could be reached by clients. The phone was small and clunky, but I could make phone calls and I soon realized it had another amazing feature – texting! Phones have changed a lot since then, but sadly I still can't do much more on my phone with SL than I could on my first cell phone.
Yes, I can now open up a web browser on my phone or tablet and connect to Web Apps and perform many of the functions in Web Apps that I could do from my laptop. There will be lots of scrolling and perhaps some cursing, but it would get the job done in a pinch. I could push out some data through Power BI or another tool and have SL data available on my phone. But, the short answer is that there really is no way to use all of Dynamics SL on your phone.
Perhaps many SL users don't really need a mobile app to do their job. After all, you have survived many years using SL and no one has complained about SL not having a mobile app. But, with each new hire your company makes, particularly if they are out of college, you can see that expectations have changed. Even recent college graduates have been using a smart phone for a decade.
Acumatica was built for the cloud. As expected there is a mobile app for Acumatica. You can download it for free from the Apple Store or Google Play. You enter in your credentials and Acumatica URL, you can even use your fingerprint to unlock it, and you have access to whatever you need on your phone. Access rights are the same in Acumatica and the web app. And while you probably wouldn't push every screen, report, or inquiry to the app, any screen CAN be accessible on the app. Changes made in the mobile app are updated and synced in Acumatica automatically.
So, what are some of the things you could do on the app? Here are some ideas:
• Use your phone's camera to take a picture of an expense receipt to claim on your expense report
• Salespeople can view their contacts and activities while out of the office
• View real-time data on reports and dashboards on your phone
• Enter your timesheet
• Approve timesheets, expense reports, purchase orders, AP bills, etc.
• Use voice to text to update sales or field service appointments
• Received mobile push notifications
The list goes on and on. Once you start using Acumatica's mobile app, you will wonder how you lived without it in Dynamics SL.
Fill out the form below to learn more about Acumatica's mobile app:

Error: Contact form not found.