Scale to Cash Cycle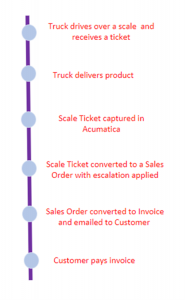 Companies across the asphalt industry have similar ways to complete their scale to cash process. No matter the company, the process depicted in the timeline below must happen for a company to drop off a product, create a sales order, a have a customer create an invoice. Many asphalt companies need a system that can manage estimates, project management, change orders, and many other items related to this industry. Typically, one system cannot handle all these functions and they must be done in several different systems making an integration challenging and difficult for the user.
Acumatica Construction is a scalable ERP with available inventory management and field service modules and integration to top-tier construction management and estimating programs.  The multi-level process shown in the photo can be handled seamlessly with Acumatica with some configurations to suit your business needs. Acumatica works for taking asphalt products from the scale and turning them into cash in a simplified process.
If you are interested in seeing how Acumatica can work for your asphalt business, please reach out to Polaris Business Solutions at info@polaris-business.com.