Visibility of Project Transactions in Projects and Construction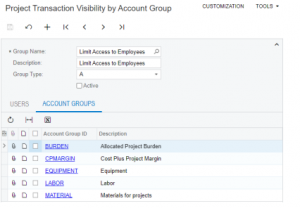 Now released in Acumatica 2021 R2, administrators can limit the visibility of employee information such as hourly wage, benefits, and other confidential data from those who are not supposed to see this data.
A new form, Project Transaction Visibility by Account Group, has been introduced. This form allows admin users to configure user group access to certain data in the Acumatica system. This form is only available if the row-level security feature is turned on in Acumatica.  Above is a photo of what the form looks like:
Five forms in Acumatica will be affected by this feature. On these corresponding forms, a user will not be able to view any debit/credit account transaction that is restricted. If the transaction line is hidden, the system displays a warning (shown in the photo below).

If a user needs to see the restriction groups, viewing the Restriction Groups by Account Group form will show how the groups are configured in the system.
If you think this feature in Acumatica will be helpful to you, please reach out to info@polaris-business.com