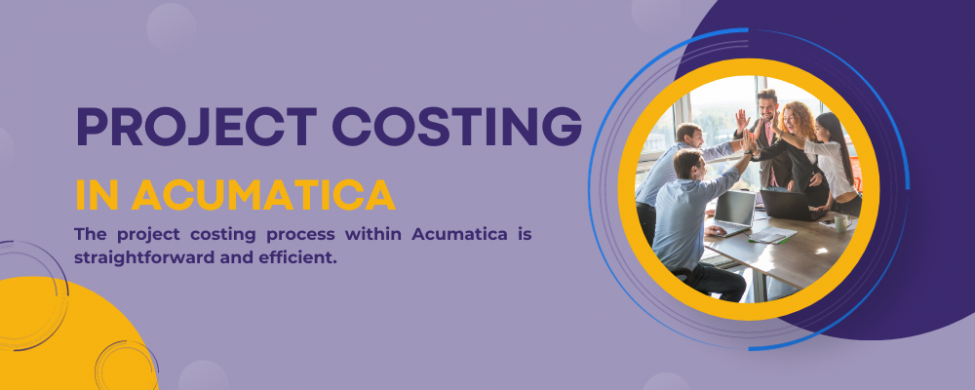 Acumatica, a cloud-based ERP software solution, offers a comprehensive and modern approach to meet the diverse needs of your growing business. Specifically designed for the construction industry, Acumatica Construction Edition is the perfect fit for expanding construction companies. It includes built-in CRM, field service monitoring, project budgeting, mobile access, and inventory management. This user-friendly platform also provides robust financial management and project costing capabilities, all in one system.
Streamlined Project Costing: The project costing process within Acumatica is straightforward and efficient. It ensures that your construction projects stay on track and within budget. Let's explore the steps and benefits of project costing in Acumatica.
Quote to a Project:
Start by creating a quote in Acumatica, capturing all relevant project information such as address, billing method, project manager, and even industry-specific data like the asphalt price index.
Once the customer approves the quote, convert it into a project with just a few clicks.
Project Overview Screen:
The project screen in Acumatica provides a comprehensive overview of the project, including the asphalt price index.
Access crucial information like change orders, commitments, invoices, and more, all on a single screen.
This powerful tool enhances project cost management.
Costs of a Project:
Many companies use multiple systems alongside their accounting system, leading to added costs and complexity.
Acumatica's all-in-one system eliminates the need for multiple integrations, simplifying operations and reducing data entry.
Integration and Connectivity:
Acumatica empowers asphalt industry users to connect all aspects of their business, including sales, inventory, materials management, project management, payroll, finance, and service management.
This integration enhances visibility into business processes and minimizes tedious data entry.
Dashboard and Reporting:
Effective measurement is crucial for monitoring business activities and decision-making.
Acumatica offers customizable dashboards that allow you to view key metrics quickly.
Dashboards can be tailored to specific departments or functions within the organization, focusing on relevant measurements.
Reporting in Acumatica provides valuable insights into your data with over 250 pre-configured reports.
Real-time data ensures that your analytics are up-to-date and accurate.
Benefits of Acumatica for Your Asphalt Business:
Acumatica automates and simplifies various business processes, including project budgeting, inventory management, and change orders.
Integration of timesheets and billing accelerates the invoicing process, reducing the time it takes to get paid.
Embedded dashboards, reporting, and real-time analytics enhance decision-making and operational efficiency.
Take the Next Steps: If your asphalt company is ready to take the next steps towards optimizing operations and boosting profitability, Acumatica is your all-in-one solution. It connects field and office teams seamlessly.
Learn More and Request a Demo: To explore how Acumatica can revolutionize your asphalt business, request a free demo on our website.
Contact Polaris Business Solutions: Polaris Business Solutions is your trusted partner in finding the ideal ERP system for your asphalt business. Discover more valuable insights about Acumatica and Polaris Business Solutions at www.polaris-business.com.
To learn more click on the links below for free content:
Cost of a Project in Acumatica – Blog
To learn even more info contact us at info@polaris-business.com.