Acumatica – Everyone gets a login!
Some people may remember when Oprah Winfrey, the famous afternoon talk show host, gave a free car to every audience member. Now a widely used GIF, she was shouting "You get a car! You get a car! Everyone gets a car!" In the ERP world when you buy an accounting package, not only do you have to select the modules you want to pay for, but also how many users seats. With the purchase of Acumatica, you get unlimited users. That means everyone gets a login!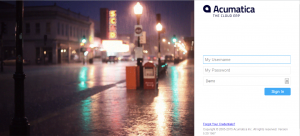 Acumatica believes that when our competitors charge on the per user basis it is too tempting to try and save money by buying fewer seats. This ends up doing a disservice to our competitors' clients and their users. With Acumatica, everyone can have a login and see only what they need to see. If they have a role in your organization, they can have a role in Acumatica. Let's explore some of the ways allowing all employees to have a login is superior.
Approval and Workflow
You may have Purchase Requisitions, Purchase Orders or AP bills that need approving. You have employees that need to enter their time and have their timecard and expense reports approved. You have change orders or sales quotes that someone needs to review. With Acumatica you can have employees enter in documents and have their managers review and approve them. Because everyone can have a login you don't need to change your workflow to save money on per user fees.
Reporting
Project Budget vs Actual. Open AR by Salesperson. Anticipated Deliveries. Late Production Orders. Employee Billing Ratio. Field Service Appointments Awaiting Scheduling. On Time Shipping Ratio. We could go on and on, these reports affect many different departments, and you have all this data and more in your ERP system. Can you afford to give everyone a seat so they can see the real-time data they need to do their job? With unlimited users from Acumatica you can – and no requirement for a third party reporting tool.
Extend Outside Your Organization
It doesn't just have to be employees that have logins. Using the Acumatica Portal, you can have customers login and submit a case in CRM and review their open balances. Have vendors login and review their invoices. Grant your CPA firm access to run reports. Subcontractors can login and enter in timecards.
Small Business Exception
Acumatica has released a Small Business Edition that is ideal for companies that have outgrown QuickBooks, but aren't ready for a full fledge ERP system. The Small Business Edition does have a limit on the number of users, but this version of Acumatica does come at a small price.
Acumatica's consumption based pricing makes it easier to manage on a monthly basis. No more adding or deleting seats. Just run your business.