Acumatica 2021 R1 New Feature Highlight: Company Groups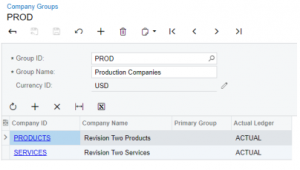 In previous versions of Acumatica, you could restrict access to a customer or vendor record to a selected branch or company. But, sometimes you may have multiple related companies that may need access to that customer or vendor. In 2021 R1 Acumatica introduced "Company Groups" to resolve this.
A Company Group can be created and include multiple companies that need to share the same customers or vendors. One company can be included in multiple groups. You will need to have the "Customer and Vendor Visibility Restriction" feature enabled in the "Enable / Disable Features" form.
A new Company Groups (CS102500) form has been added to allow for adding, viewing, editing, and deleting company groups. The Group ID follows the Company segmented key. On the Companies (CS101500) form a new Customer groups tab is visible so users can review the groups the company belongs with.
Now on the Customers (AR303000) form under the Financial Settings, the Company Groups will display under the "Restrict Visibility To" field. Select the group to restrict visibility to and hit save.
Error: Contact form not found.