Acumatica 2020 R1 Now Available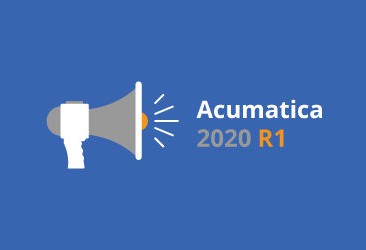 Acumatica has announced the 2020 R1 release is now generally available. Acumatica praised their development teams around the world for another on-schedule release. Superior usability, new native modules and cross connected workflows highlight the areas in this release. Some of the improvements are highlighted below:
Construction edition is now part of the core product as opposed to a customization project
New workflow in Opportunities and Cases – the system will now select the status based upon the user actions
Payment application can now be applied to particular lines of AR documents
Matrix items have been implemented in 2020 R1. These items represent variants of high-level items, such as t-shirts, that have multiple attributes (material, color, size, etc.)
Sales Order Invoices can now be cancelled or corrected.
Users can take a picture of expense receipts with the Acumatica mobile application and the system will recognize values on the photo and map it to fields in Acumatica.
The caching of data on Dashboard Widgets has been implemented.       The frequency of the refresh can be specified on each widget.
Users can track and log travel time to service appointments
The scheduling of service appointments can now be done with the assistance of an optimizer.
This is just a small sample of the improvements in Acumatica 2020 R1. For a demo of please contact us at info@polaris-business.com