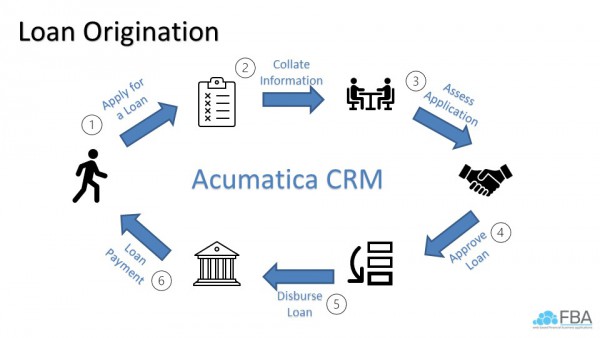 The all-in-one loan management tool built for Acumatica has several components that make it a great fit for many different types of loans for companies in various industries. AcuLoan is built to serve both debtor and creditor types of loans making it a versatile loan management tool seamlessly integrated into Acumatica.
The life cycle of a loan is completely managed within the AcuLoan system. The loan is first entered into the system as a loan account with the "applied for" status. Users then leverage the Acumatica CRM system to assess the application and any documentation associated with the loan. Loans are then approved within the system and users make the payment within AcuLoan. All contact information for the loan account is held in the system for an easy user experience.
The all-in-one tool that Acumatica has for managing loan accounts makes it easy to see all information related to the loan and see how this information ties to accounting details. There is no longer a need for both a loan management program and an accounting program.
If you think your company could benefit from a single system to manage your loan accounts, contact Polaris Business Solutions for a demonstration of AcuLoan. Please email info@polaris-business.com.