Dynamics SL 2018 CU4 Is Now Available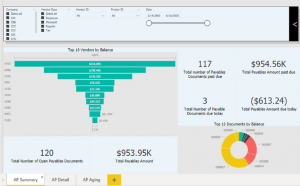 Microsoft has released Dynamics SL 2018 Cumulative Update 4 (CU4) and it is now available for download. Below is a summary of some of the enhancements:
The AR Application Inquiry/Reversal screen now allows for posting of reversals back to the date and period to post of the original document.
Sales Order lines that are linked to a Purchase Order line will display a warning if the SO line is deleted.
Service Invoices can now be reversed or copied with a click of a button.
Power Automate Flow email notifications are now available.  These notifications can be customize and be sent to remind employees about entering timecards, approving timecards and employee timecard status to managers.
Power BI dashboards for vendors, customers and projects have been improved.
Support for Microsoft SQL Server 2019 and Microsoft Office 2019 is now available with CU4.
If you have any question please feel free to contact us by email via info@polaris-business.com or fill out the form below.
Error: Contact form not found.