Dynamics SL 2018 CU3 Is Now Available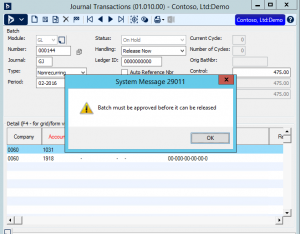 Microsoft has released Dynamics SL 2018 Cumulative Update 3 (CU3) and it is now available for download. Below is a summary of some of the enhancements:
The approval process that was added to A/P in a previous release has now been added to the Journal Transaction (01.010.00) screen.
Project & Task End Date validation has been expanded to allow for it to be turned on or off in different financial modules.
Orphan records in GL from Revenue Recognition (PA.REV.00) has been addressed.
In the Release AP Batches (03.400.00) and Release AR Batches (08.400.00) screens users can now see the Period to Post value.
Users can now select filtering options for possible values so they can set the default look up behavior.
Power BI Customer dashboard has been added
Visual Studio 2017 & 2019 is now supported
If you have any question please feel free to contact us by email via info@polaris-business.com or fill out the form below.
Error: Contact form not found.