You have invested years and capital in implementing, tweaking and developing your internal processes around Dynamic SL.  So, it is no wonder you might be hesitant to move to the next generation of cloud-based ERP systems – no matter how advantageous they might be.  But, with the lifespan of Dynamics SL in doubt it is time to consider migrating off your legacy system.
Your current system could be having a negative effect on your business – the technology is outdated, there is a lack of scalability, updates aren't responsive to industry changes or new regulations,  and there are security and access issues.
The CEO of Solomon Software for 15 years was a co-founder of Acumatica.  Those that like the functionality of Dynamics SL will find similarities with Acumatica.  But, this is just one reason we think Acumatica should be considered for your next ERP.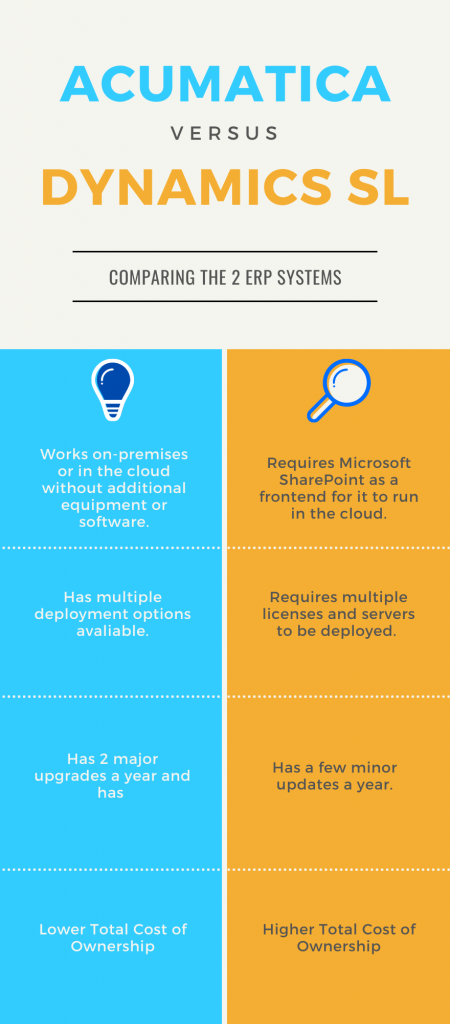 These are just a few of the comparisons. We had multiple blogs listed below that compare the two. Many are looking ahead to a cloud-based future after the last few years of uncertainty. With times changing rapidly, it may be time to look into a new ERP system that can change with your business.
Why Acumatica?
Acumatica 2020 R1 – the latest release
Comparing Dynamics SL and Acumatica:
Account Categories – called Account Groups in Acumatica
End User Licensing – Acumatica provides unlimited users
To learn more about Acumatica or to schedule a demo, please fill out the form below:
Error: Contact form not found.
 Is it time to migrate from Dynamics SL to Acumatica?