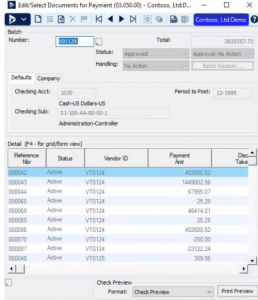 Now that Microsoft Dynamics SL 2018 Cumulative Update 6 (CU6) is available, lets break down what is new and what has been improved.
Time Review & Approval Automatic GL Labor Posting: The Time and Expense Setup Approval tab can now turn on an option in the Time Review & Approval screen to run GL Labor Postings automatically for the approved labor postings.
Accounts Payable Check Batch Approval: The Approval Maintenance screen now has the option that Accounts Payable check batches can be set to require an approval. This means that they cannot be printed until they are approved.
Order Management PV Options for Sales Orders and Shippers: Users can now select to exclude cancelled sales orders and shippers from the PV lists. This is in Shipper ID field and Order Number fields. Also, the users can now limit the number of years and shippers to be shown in the PV List as well
All in all this update doesn't entail too many changes and just tries to enhance what was already there in Dynamics SL CU5.