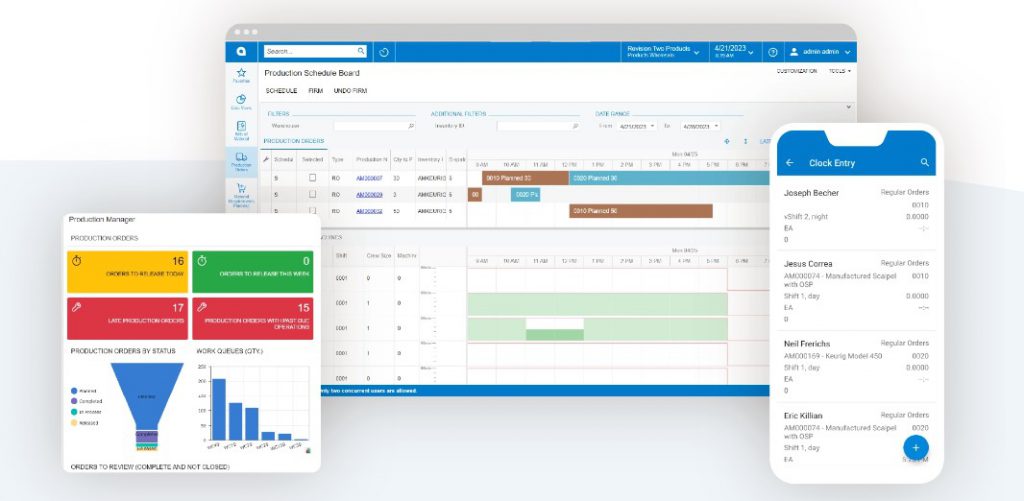 The manufacturing module within Acumatica is designed to help organizations streamline and optimize their manufacturing processes. Many of the features needed to run a successful manufacturing company are all in one system with Acumatica. Here are some key features and functionalities often associated with Acumatica's manufacturing module:
Bill of Materials (BOM) Management: The module allows you to create and manage bills of materials, which are detailed lists of components, subassemblies, and raw materials required to produce a finished product. This helps in understanding the structure of products and their associated costs.
Work Order Management: Acumatica's manufacturing module typically includes tools for creating and managing work orders. Work orders define the tasks, processes, and resources required to manufacture a product. This can help in tracking the progress of production and managing resources efficiently.
Production Scheduling: Manufacturing often involves complex scheduling to ensure that resources (such as equipment and labor) are allocated optimally. The module may include features for visual production scheduling, allowing you to plan and adjust production timelines.
Material Requirements Planning (MRP): MRP functionality helps in determining the materials needed for production based on factors like demand, lead times, and inventory levels. This can assist in avoiding shortages or overstock situations.
If you are a manufacturing business looking to streamline your business processes, please reach out to Polaris Business Solutions. We would love to show you a demo of Acumatica. Email info@polaris-buisness.com for more information.